Redeemer Lutheran Church (ELCA)
1001 Princeton Street
Fircrest, WA 98466
253.564.5053 www.redeemerlc.org
Map
Date of visit: Tuesday, 31 January 2012 (RT/JN)
Pastor Gary Petersen served as guide to show and inform us of the relocated, but intact, ES designs.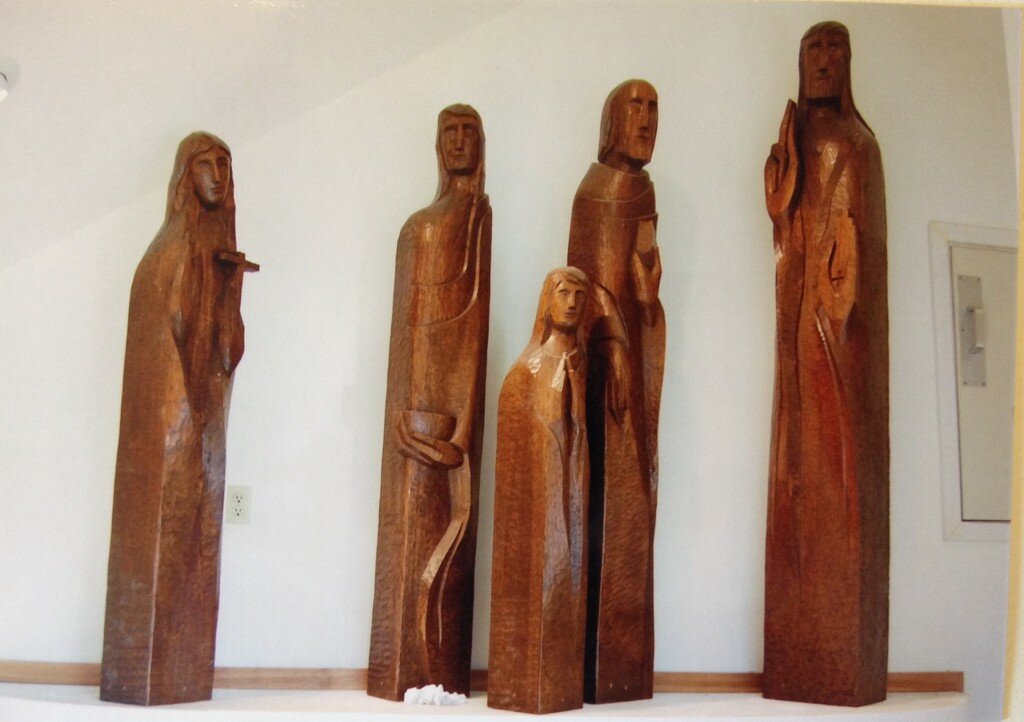 The five freestanding carved wooden statues ES originally designed for the chancel have been moved from the re-designed chancel, reduced slightly in height to fit on an inside high platform at a side entrance where floodlights duly highlight the figures and three ES designed wall plaques complement the statues. From an undated letter from ES to Pastor Paul Freese, Redeemer LC: "The figures were intended to represent the following: St. Paul for age and wisdom; St. Mary Magdalene for women and witness …; St. John the Evangelist for service …; and Jairus' daughter for youth and prayer. Of course one should be free to interpret the symbols any way it seems appropriate. However, in the event this information has gotten last, I thought it might be well to let you know of the original intention."
The wood-carved wall plaques read:
…MAKE DISCIPLES OF ALL NATIONS BAPTIZING THEM IN THE NAME OF THE FATHER AND THE SON AND THE HOLY SPIRIT. I AM WITH YOU ALWAYS. MT 28:19 (formerly located at the baptistry)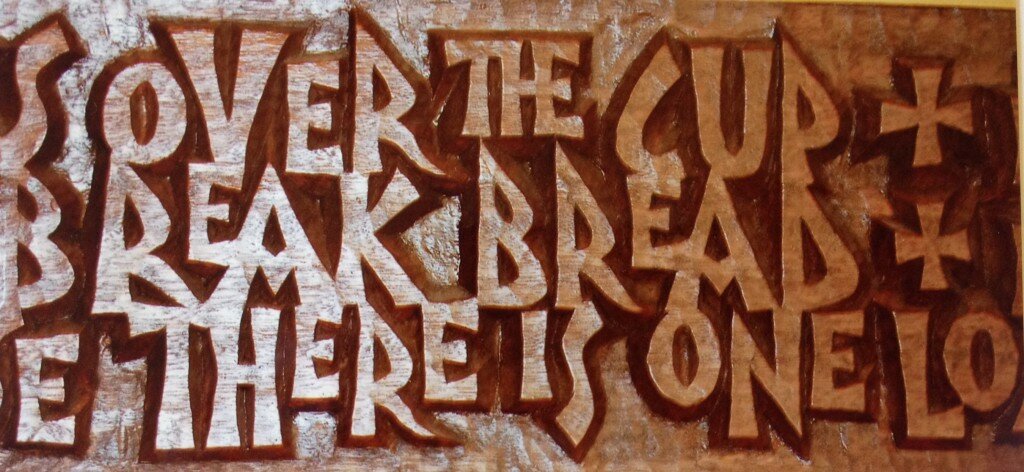 …WE GIVE THANKS OVER THE CUP + IT IS A MEANS OF SHARING THE BLOOD OF CHRIST. WE BREAK BREAD + IT IS A MEANS OF SHARING THE BODY OF CHRIST. (formerly located on the altar)
…+FAITH COMES FROM HEARING THE WORD+ (formerly located on the lectern)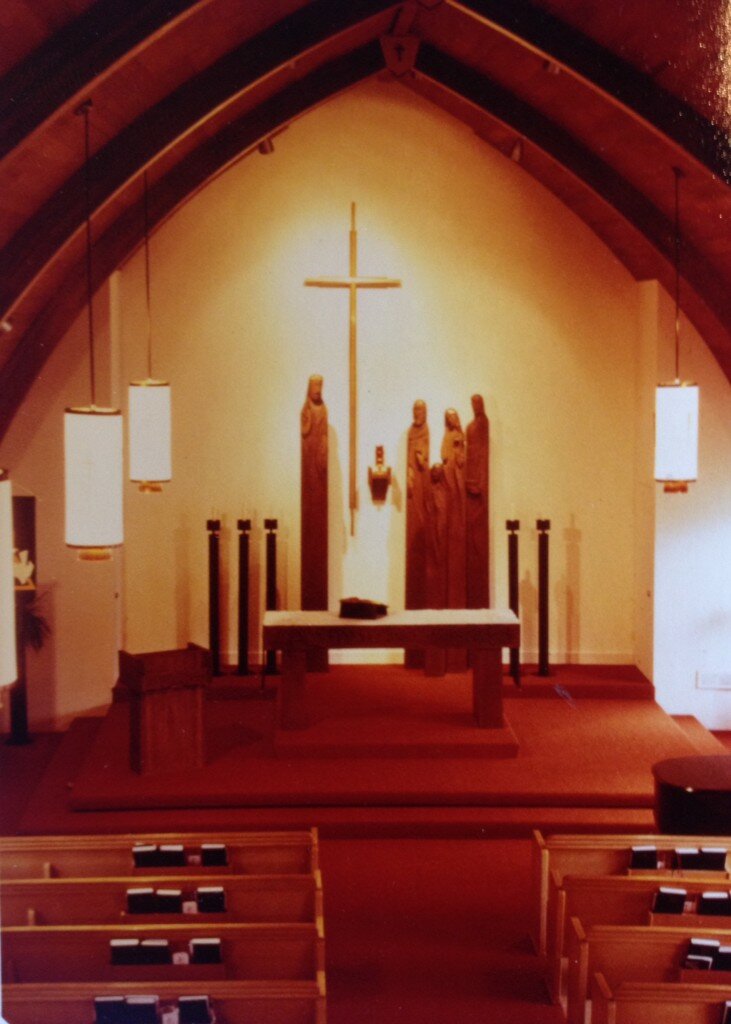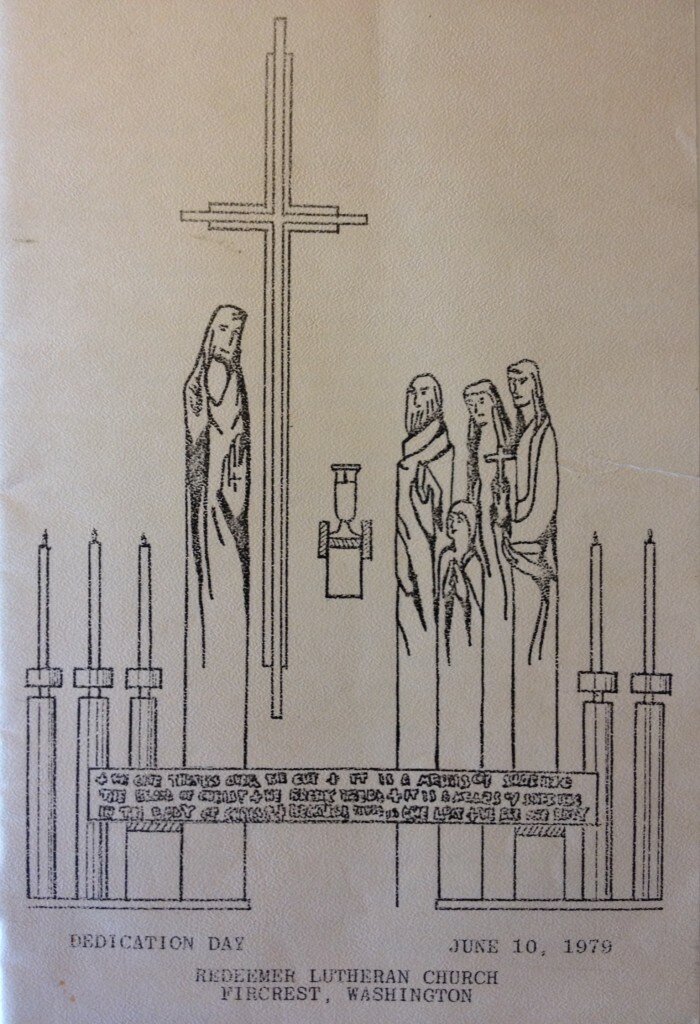 Installation Notes:
REDEEMER LUTHERAN CHURCH, Fircrest, WA. Renovation. Ernst Schwidder/Associates. Ernst Schwidder interior design, design of furnishings, and execution of wood carvings.
In addition to the liturgical objectives, satisfied with a table-type altar and flexibility of arrangement, this congregation wanted some symbolism appropriate to the idea of being a "community" church. The cluster of figures are intended to represent men and women of different ages as well as certain specifics. To the left is St. Paul representing age and wisdom; in front, Jairus' daughter for youth and prayer; behind her Mary Magdalene represents witness as she was the first person Jesus appeared to after His resurrection and in turn witnessed to the disciples; and St John the Evangelist for service. Project completed in 1979.